Samadhi Vidhi of Srila Bhakti Vaibhava Puri Goswami Maharaja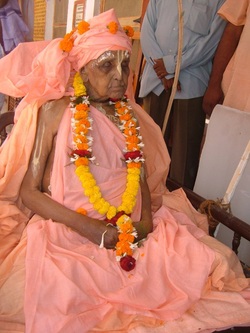 On Tuesday, March 3, 2009 at approximately 8:10 PM, Srila Bhakti Vaibhav Puri
Goswami Maharaj left this world at Vishakhapatnam, Andhra Pradesh, to join the
Lord's eternal pastimes. Two hours later, his fully spiritualized transcendental body was
driven to Jagannath Puri in the Mission's van.
H.H. Radhanath Swami, accompanied by his disciples Gauranga Das and Govinda Das, and Sriman Jagjivan Das, President of ISKCON Mira Road, Bombay, accompanied by his wife, Radharani Devi Dasi, and his cook, who is a disciple of Puri Maharaj, two disciples of Puri Maharaj from Chennai (Madras); and I all took the flight to Bhubaneshwar from Bombay, to attend the "Samadhi Vidhi" (burial ceremony) that was to be held at Puri.
Our group was met at the airport by around twenty devotees from ISKCON Bhubaneshwar headed by Atmaram Das, and temple General Manager Gokulananda Das. Sriman Vanamali Das (JPS), a successful businessman, took Jagjivan Prabhu, his wife, Gokulananda Das and me in his car directly to the Sri Chaitanya Chandra Ashram of the Sri Krishna Chaitanya Mission, located next to the Gundicha temple, at Puri. Atmaram Das and the Bhubaneshwar devotees arrived shortly thereafter.
When we arrived, we saw that Maharaj's transcendental body had been placed on a palki [palanquin] and was decorated with flowers and the pit for the Samadhiwas in the process of being excavated.
Shortly after our arrival, Maharaj's transcendental body was taken in a procession around the Gundicha Mandir, and also the Chaitanya Chandra Ashram, entering the Puri Bus Stand, and returning to the ashram.Almost immediately after being
returned to the temple, Maharaj's body was brought to the pit for placement in the samadhi. A seat was prepared by placing cloths on the ground. Maharaj's body was seated on the cloths, and then slowly his body was surrounded by salt, as per the instructions of scripture.
All the while, continuous harinam sankirtan was performed by various devotees, in a crowd of almost one thousand disciples and devotees who gathered from mostly nearby towns and villages of Orissa. Several of Maharaj's leading sannyasi disciples had arrived from Vrindavan, Mayapur, Rajahmundry, Kharagpur and other places.
When Maharaj's body had been covered up to the neck, HH Radhanath Maharaj arrived at the ashram. He had been
delayed en route . Puri Maharaj's head, which had been wrapped in a red cloth, was uncovered to fulfill Radhanath Maharaj's desire to have his "antim darshan" ("last view"). Thereafter the samadhi vidhi was concluded.
That night all theassembled devotees were served with Jagannath Prasad - rice, dalma and two vegetable preparations (from the Jagannath temple). The next day, a very nice feast was cooked by H. H. Damodar Maharaj, the president of the SKCM's Sambalpur Ashram, (Orissa).
At Sri Chaitanya Chandra ashram, most of Maharaj's sannyasis and leading disciples are camped and arranged various daily programs, including sankirtan, pravachans, Srimad Bhagavat Paath, Sri Chaitanya Charitamrta Paath, etc., are in progress on a daily basis. From Monday March 14 until Wednesday March 16, 2009, a grand "smaraka" (remembrance/memorial) program is being arranged, as per tradition. There will be lectures on the life of Maharaj, remembrances of Maharaj by various devotees, Nagar Sankirtan, and massive prasad distribution as well
.
.

---