Srila Bishnu Maharaja's 2017 Mexico, Central America, and USA Tour
April 29 - Guadalajara
April 3 - Monterrey
April 5-7 - Monterey to Mexico City
(9 Nrishingha Chaturdasi)
15 - Bogota, Colombia, South America
May 24 - Miami, Florida, USA
May 30 - Arrive North Carolina
June 2 - Charlotte, North Carolna
June 5 - Dallas, Texas
June 8 Arrive San Jose, California
June 14 - Seattle Washington
June 19 - San Francisco, California
June 21 - departure to Delhi
Delhi to Bhubaneswar to attend Rathayatra at Puri on June 25, 2017 .
Jay Jagannath!
Srila Bishnu Maharaja's 2016 European Tour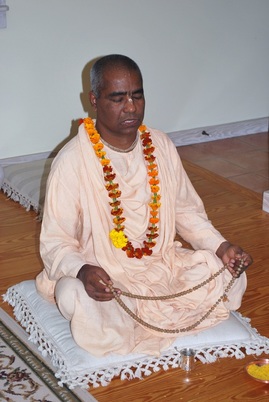 The following tour dates for the Italian segment of Srila Bishnu Maharaja's European Tour have been confirmed:
Monday 6th through Wednesday 8th - Aguapendente, Jagannath Mandir
Thursday 9th - Guna Grahi prabhu's place
Friday 10th - to Gouramandala
Saturday 11th - Terni in the Vrinda Centre
Sunday 12th - in Gouramandala
Monday 13th - in Devendra prabhu's Temple
Tuesday 14th - in Gouramandala
Wednesday 15th until Saturday 18th - in Sardinia
Sunday 19th - in Jarikanda
Monday 20th and Tuesday 21st - in Mahapurusa prabhu's place
Wednesday 22nd - in Golokananda prabhu's place
Thursday 23rd - in Lokanath prabhu's place
Friday 24th and Saturday 25th - in Torino
Sunday 26th until Tuesday 28th - in Cantu

All glories to Sri Guru & Gouranga
Dear Devotees and friends! Hare Krsna, dandabat pranam,
After a long time I am updating my gmail groups and reconnecting with all the devotees. In this way we can all have good communication via email.
It is my pleasure to inform you that this year on 30 of April 2016 I arrived in Spain from Mayapur via Kolkatta. I arrived without any delay at the Madrid Airport. Yasomatinandan prabhu, Anadi prabhu, and Hari Krsna prabhu were waiting to receive me, and together we went to Logronyo. Now 2 days have passed here with daily programs in the morning and evening.Today will be a public conference at city hall.Tomorrow on 3rd May I will go to Barcelona. The rest of my European schedule is as follows:


8th-14th Radhavallabha temple in Monava
14-15th Berlin, Germany at the Vrinda temple.
16th Wroclaw, in Poland organised by Krishn Kirtan prabhu .
17th-24th Czech Repblic. Organised by Panchatatwa prabhu .
At - Vinare, Sokolov, Korlovy Vary, Ostrava .
25-30th Vienna, Austria Radha-Govinda Mandir with BP Muni Maharaj and Narasingha Maharaj.
1st-5th June Slovenia and Croatia, Pula with Madan Gopal prabhu and Tapasvi Maharaj .
Then after the 5th of May - Italy. Sivananda prabhu is organising up to 13th of June .
13th of June, return to India, Bhubaneswar, then Puri in time for Jagannath's Snan purnima.
After several trips to Europe, there are so many devotees that I have met and are are eager for association. I am sorry to not be able to accommodate everyone since there are a limited number of days I am able to travel in Europe.
In the third week of July I will travel again, returning again to America for the second part of my 2016 tour. Afterwards I move on to Mexico on the third week of July. I will inform all of you after fixing all dates and places.

Hope this meets you all happy with Sadhusanga.
In the service to Sri Hari, Guru, and Vaishnabs.
B. V. Bishnu

Sri Krsna Chaitanya Mission,
Gour Saraswat Ashram,
Sri Mayapur (WB), India

---
---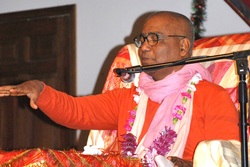 Last year proved to be extremely busy for Srila Bishnu Maharaja with heavy responsibilities in India. Thus he was not able to travel to Europe, Mexico, and the United States. Devotees will be happy to know that he is planning to travel again in 2016, beginning in the spring, and will probably travel to South America this year as well. When Maharaja's travel schedule is fixed you will find it posted here on this page.

---
---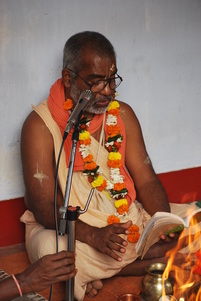 After a full five and a half month tour of Europe, Mexico, and the United Sates, Srila Bishnu Maharaja has returned to India to complete arrangements for the opening of the new Sri Sri Radha-Govinda Mandir in Brahmapur, Orissa. A huge festival is already in the planning and organizational stages. Needless to say Srila Bishnu Maharaja will be very, very busy organizing this Temple opening and deity installation festival for the pleasure of all Acharyas and Vaishnavas.
Many sannyasis, babajis, senior devotees from various Mathas, political figures, and international guests are all making plans to attend this auspicious function. And you, the readers of this website are also cordially invited to bless us with your presence. The function begins on January 10, 2015 on the auspicious occasion of Nitya-lila Pravishta Om Vishnupad Parmahamsa Bhakti Vaibhava Puri Goswami Maharaja's Vyasa-puja ceremony. The deity installation is scheduled for January 25th and Bhagavat saptah, 24 hour kirtan, spiritual discourses, Agni-hotra, and profuse prasadam distribution is all being arranged.


---
Srila Bishnu Maharaja is currently traveling and preaching in Berlin, Germany. The rest of his 2014 World Tour is as follows:

Germany
29.04. - 05.05. Berlin – Vrinda Kunja

Czech Republic
6.5. Brno – Haribol Center, Damodara Prabhu
7.5. Ostrava
8. 5 Ostrava
9. 5. Prague – Radha Gopinatha Mandir

Austria
11.5. Vienna, Radha-Govinda Gaudiya Math

Hungary
18.5 Nandafalva program 4pm
19.5. Szeged
20.05. Pecs, Spd. BK Tirtha Maharaj place
21.5 Budapest public program

Slovenia
22.5. Celje, Urukram's place
23.5. Celje, public program
24.5. Ljubljana, Gokula program, Madan Gopal prabhu & Tungavidya's place

Croatia
25.5. - 27.05. Sri Radha Gopinath temple ,Pula , Spd. BA Tapasvi Maharaj's place

Italy
28 and 29.05.5 in Valihara prabhu place,
30.05. Vicenza (Satyabhama d.d. Place),
31.05 Milano ( Gopala Priya house)
01.06. Torino (Adoksaja prabhu's place) then Lokanath house, Florence (Golokananda prabhu's place, 1 or 2 days) and afterwards maybe Satyavrata and Prema Vilasini's place
07.06.2014 Sinigalia, Krishna chandra prabhu's place
08.06.2014 Rimini, Jharikanda Center, at Arjuna Pati's place
09.06.2014 Aguapendente, Sivananda prabhu's place (Jagannatha Temple)

Then Gaura Mandala and the last week Sardinia. There may also be a program in Terni, and if possible in Guna Grahi prabhu's place.

Spain
27.06. Barcelona, Hansaraja prabhu, Keshava Center
01.07. Alicante, Monovar, Radhavallabha Temple, Krsna das prabhu's place
10.07. Logronyo, Creativity Center (Gour Nitai Temple), Yasomatinandan prabhu.
14.07. leaving from Madrid to Mexico

Mexico
14.07. Arrival in Mexico
15.-18.07. Veracruz visit to a farm
19. and 20.07. Mexico City invitation to Om Shanti Mela festival
21. - 25.07. Monterrey
26. - 29.07. Zacatecas
30. - 02.08. Guadalajara
03. and 04.08. Aguascalientes
05. - 07.08. Tepoztlan
08. - 10.08. Puebla invitation to Ratha Yatra
11. - 17.08. Mexico City

USA
08- 18 to 21 Dallas, Farm
08 - 22 to 24 San Antonio
08 - 24 to 25 Houston, Radha Krsna Temple
08-26 Flight to San Jose, Dayanidhi Prabhu
09-01 Flight to Charlotte, NC, Sarva-drik Prabhu, Jagannatha Temple
09-11 Flight to NY, Madana Gopala prabhu's House
09-13 Flight back to Delhi via London
09-14 Delhi - Vrindavana


---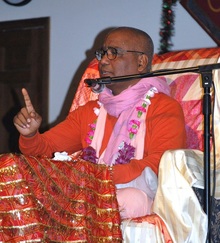 ---
---
Srila Bhakti Vichar Bishnu Maharaja's 2013 World Tour Itinerary

Srila Bishnu Maharaja has been keeping an amazing schedule, traveling across Italy, Spain, Croatia, Czech Republic, Germany, Hungary, USA, Mexico, and other countries selflessly carrying the message of Sri Chaitanya Mahaprabhu and Srila Guru Maharaja wherever he goes. Below is a basic travel itinerary. To know exactly where he will be on any given day contact us here Hare Krishna! Jaya Sachinandana!

8th June Arrived in Rome,

11th Napoli

16th Sardinia

20th Sorano

26th Camporotondo

27th Terni

28th Viterbo

29th Sinigallia

30th S.Sepolcro

---

July 2nd and 3rd Tavernelle
4th Agliana
5th and 6th Torino
7th Millano
8th Padua
9th and10th Pordenone
11th Pula
Croatia Tour
14th to Vienna, Austria
15th to Berlin, Germany
20th to Czech, Prague
24th to Vienna again
26th to Hungary
30th to Slovenia
3rd August to Vienna again
9th to Spain
20th Barcelona
23rd Monaber, Alicante
Radha Vallabha Temple
30 Logronya
Madrid until 9/3/13 then to NYC
USA Tour
New York City - September 3rd-4th
North Carolina - 4th through16th
Seattle, WA - 16th through 23rd
San Jose, CA - 23rd through 30th
Dallas, TX - 30th through October 6
Mexico Tour
October 6-12 Monterrey
13-16 Zacatecas
17-19 Auguascalientes
20-23 Guadalajara
24 - Puebla
25-29 Mexico City D.F.
30- 1 NovemberTepoztlan
2- 3 "Ultimo Programa" D.F.
prithivete ache yata nagaradi gram
sarvatra prachara haibe mora nama

"In every town and village, the chanting of My name will be heard."