Srila Gurudev's Holy 103rd Vyasa-puja Ceremony

Devotees from around the world gathered to honor and worship Om Vishnupad Paramahamsa 108 Sri Srimad Srila Bhakti Vaibhava Puri Maharaja on the occasion of his 103rd appearance celebration. Ecstatic Harinam, copious prasadam distribution, and enlightening Hari-katha from senior devotees were the highlights of the festival. Below are photos from the auspicious occasion.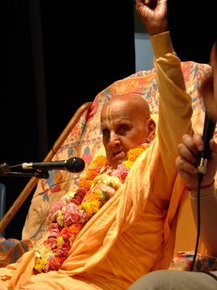 Srila Gurudev's 102nd Vyasa-Puja Ceremony
Beginning with the auspicious adhivasa ceremony on January 9th, 20015 the 102nd appearance anniversary of His Divine Grace Om Vishnupad Paramahansa 108 Sri Srila Bhakti Vaibhav Puri Goswami Maharaja was celebrated in grand style in Brahmapur, Odisha.
The next day all the assembled devotees gathered for mangal arati, prarikrama, guru vandana, and guru parampara prayers. Srila Bhakti Vichar Bishnu Maharaja spoke, as well as many sannyasis in glorification of the divine qualities of Srila Guru Maharaja. Bhakti Kunkum Ashram Maharaja, Bhakti Sarana Paramarthi Maharaja, Bhakti Sajjana Maharaja, Bhakti Prapanna Paramahansa Maharaja, Bhakti Vilas Pariyatak Maharaja, Bhakti Sundar Santa Maharaja, Narasingha das Adhikari prabhu and other exalted vaishnavas glorified Srila Gurudev's divine qualities and realization. At mid day an opulent prasadam feast was served to one thousand devotees in attendance. Beginning on the the 11th Bhagavat Parayana was held for seven days with prasad distribution each evening.
When the beautiful new Radha-Govinda Temple opens in a few days the public, as well as many generations of devotees, will have the opportunity to worship, pray, sing kirtan, and remember Srila Gurudev's mercy and kindness for many years to come.

---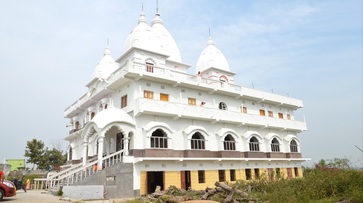 ALL GLORIES TO SRI GURU & GAURANGA!
Dear devotees and friends,
My humble namaskarah to one and all.
It is my great pleasure to invite you for the grand ceremonial opening of the new Brahmapur Temple and installation ceremony of the divine deities of SRI SRI GOURANGA MAHAPRABHU, RADHA-GOVINDA, LAXMI-NRISHINHA, and PATITAPAVAN JAGANNATH SWAMI.


PROGRAM
* 10 January, 2015 – The 102nd Auspicious Birth Anniversary Ceremony, "VYASAPUJA", festival of Nitya-lila Pravistha 108 Sri Srila Bhakti Vaibhav Puri Goswami Maharaj .
* 19 January, 2015 through 25 January, 2015 -Bhagavat Saptaha parayana and Hari Katha Yajna
*Seven days Bhagavatam lectures from 18th January through the 25th January by different elevated Vaishnabs, from 9 am to 12 Noon and 3 PM to 6 PM, enlightening spiritual discussions by many vaishnabs and VIP guests.
*From 21st January, 2015 to 25th January, 2015 - 5 day continuous, Akhanda Harinam Mahamantra Sankirtan (SANKIRTAN YAJNA )
*Five days from 21st January through the 25th, GRITA YAJNA and Vaishnav Maha Yajna. Free sumptuous prasad distribution to everyone in attendance on each of these festival days. It is our hope that thousands of fortunate souls will be gathered in order that we may serve you.

VENUE
Auto Nagar , Haladiapadar ,National Highway 5, Brahmapur, Odisha, Bharatvarsa (INDIA), near Kutharsing village, the sacred birth place of Nitya-lila Pravistha 108 Srila Bhakti Vaibhav Puri Goswami Maharaja, and near the sacred Samadhi Mandir of Nitya-lila Pravistha Bhakti Gourava Vaikhyanasa Goswami Maharaja, a senior sannyasi disciple of Srila Bhakti Siddhanta Saraswati Thakur Prabhupad in Gounju village, just 10 km distant.

Please take advantage of this grand festival and unique devotional opportunity and participate with your family and friends. Your presence, service, association, donations, and best wishes are also accepted with love and honor. If you would like to donate Laxmi to sponsor this holy occasion - Western union money transfer is easy and efficient.

Yours in the service of Sri Hari, Guru, and Vaishnabs,
Bhakti Vichar Bishnu
Sri Krishna Chaitanya Mission
---
Flag Raising Ceremony Attended by Brahmapur VIPs
The auspicious flag raising ceremony, Subha Khuntia, announcing the opening of the Radha-Govind Laxmi Nrusingha Mandir was recently conducted. Brahmapur VIPs were invited to lend their good will, enthusiasm, and blessings to the occasion. In attendance were:

Chief Guest - Honorable Dr. Pradeep Panigrahy, Higher Studies Minister
Brahmapur MLA - Dr. Ramesh Chaupattnaik
The Mayor of Brahmapur - K. Madhavi

Thanks to Litu Kumar prabhu for photos from the ceremony.

Nrusingha Jayanti 2014 at Brahmapur Radha Govinda Mandir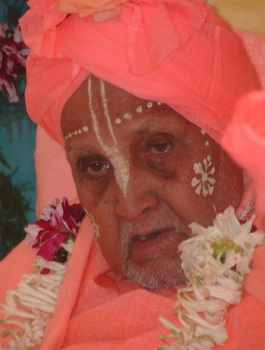 Photos from the most auspicious observance of the celebration of the holy 101st appearance day of:
Om Vishnupada 108 Sri Srimad Bhaktivaibhava Puri Goswami Maharaja.
The festival was organized by Srila B. V. Bishnu Maharaja and held at the beautiful new Sri Sri Radha-Govinda Mandir; Brahmapur, Orissa. Thousands of devotees participated over the five day duration of the festival and many sannyasis graced the ceremony with their presence and enlightening classes. The festival began with adivasa and ended with a grand guru puja. During the five day festival there was continuous Harinam Sankirtan for three days, prasad distribution, arati, and kirtan.

---
More photos here...

Temple Construction Update photos - February, 2014.
Thanks to Litu Kumar prabhu of Brahmapur for these photos, and also for Vyasa-puja photos.

Construction Update - Sri Sri Radha-Govinda Temple in Brahmapur, Orissa
Below are some recent photos of the construction progress of the new Sri Sri Radha-Govinda, Laxmi Nrisingha Temple being built under the guidance of Srila Bishnu Maharaja in Brahmapur, Orissa.

Srila Bhakti Vaibhav Puri Maharaja's Centennial Day Celebration
January 2013, Jagannath Puri Dham

Om Vishnupada Paramahamsa Srila Bhakti Vibhava Puri Maharaja's Traveling Ratha Yatra.
Below are photos of devotees that are traveling around Orissa in a Rath style vehicle with Srila Puri Maharaja's murti to temples and Villages glorifying the character, devotion, and accomplishments of Srila Puri Maharaja.

Bhagavata Saptah and Harinam Dikshya in Charlotte, North Carolina

Srila Bishnu Maharaja's 2012 World Tour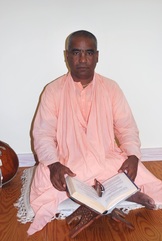 Srila Bishnu Maharaja left India traveling to Spain on the sixth of September where he spent two weeks traveling to Barcelona and Manovar Alicante spending time with the devotees in the popular Radha-Vallabha Temple. After Spain Maharaja traveled to Italy and spent four weeks visiting devotee congregations and Temples in Agua Pendente, Rome, Naples, Sinigallia, Rimini, Terni, Torino, Milano, Vicenza, and Venice. Next on the tour agenda was Croatia and the beautiful Radaha-Govinda Temple in Pula. After Croatia Maharaja traveled to Slovenia spending time with the devotees in the capitol city of Lubjiana and other outlying cities. Afterwards the devotees of Vienna's large Radha-Govinda Temple hosted Maharaja in Austria. Afterwards he traveled to Prague in Czech Republic and Budapest, Hungary. Srila Bishnu Maharaja was then invited to Berlin, Germany and then traveled on to Paris, France.
After spending an extended time in Europe Maharaja flew across the Atlantic to the United States to spend time preaching at programs the devotees in Seattle, Washington arranged for him. After visiting Seattle Maharaja flew south across the border to sunny Mexico where hundreds of devotees eagerly awaited his arrival. Flying and driving by car he was preaching in Monterey, Agua Calientes, Cuernavaca, Guadalajara, and Tepozaland.
Presently he is in Charlotte, North Carolina where he is happily engaged for seven days preaching to crowds gathered to hear from Srimad Bhagavatam, Bhagavat Saptah. He will stay in Charlotte for about ten days and then will travel by car to Prabhupada Village where he will spend three days preaching to a diverse community of senior devotees. On the 10th of January he will fly to Connecticut where His Holiness B. V. Radhanti Swami is hosting Maharaja for a few days. Srila Bishnu Maharaja will stay there for three days. And after nearly four months or non-stop traveling on behalf of Om Vishnupada Paramahamsa Srila Bhakti-Vaibhava Puri Maharaja, to expand the mission and strengthen the faith and understanding of devotees, Srila Bishnu Maharaja will return to India and will attend the highly auspicious occasion of Srila Bhakti Vaibhava Puri Maharaja's holy appearance day with all the other Krishna Chaitanya Mission devotees in Puri. In addition to the photos posted below we hope to post photos of upcoming engagements in the near future. Param Vijayate Sri Krishna Sankirtanam! Hare Krishna!
---
Preaching in Seattle, Washington

Preaching in Czech Republic and Vienna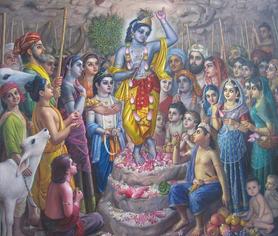 "
Om Namo Bhagavate Vasudevaya"
Bhagavat Saptah
with Srila B. V. Bishnu Maharaja
Venue: Charlotte Hindu Center, Charlotte, North Carolina
Date: December 29, 2012 through January 5, 2013
For more information call: 704-248-0652

---
Photos of the 2012 Gita Jayanti Celebration at the new Brahmapur Radha-GovindaTemple, Haldiapadara National Highway 5.
Near the sacred birthplace of Om Vishnupad Paramahamsa B. V. Puri Maharaja.

New Berhampur Temple Update

Below are new photos showing the construction progress of the beautiful new Radha-Govinda Temple that is gracing the horizon in Berhapur, India. It is located a few meters off of the National Highway and thousands of people pass by on a daily basis. When it opens on January 14th, 2013, coinciding with the 100th appearance anniversary of Om Vishnupad Paramahamsa Srila Bhaktivaibhava Puri Maharaja, this temple is sure to become one of the cities most popular spiritual destinations.

News from Srila Bishnu Maharaja - November through January 2012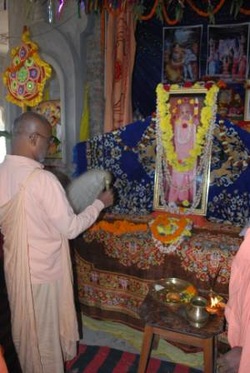 After a well organized 2012 Braj Mandal Parikram with nearly 800 devotees in attendance, Srila Bishnu Maharaja traveled to Sridham Mayapur for several days and then, along with a couple of brahmacaris, drove south to Ganjam district for village preaching, promoting the 99th appearance day festival of Nitya Lila Pravista Om Vishnupad Srila Bhakti Vaibhava Puri Maharaja, and visiting established and up and coming Krishna Chaitanya Mission Temples in the area.
He is presently in Berhampore where the festival was held and where he is devotedly absorbed in constructing a magnificent Temple for the pleasure of Sri Sri Radha-Govindadev, Gouranga Mahaprabhu, Laxmi Nrisingha and Srila Puri Maharaja. By mid-February he will return to Sridham Mayapur for Gaura Purnima 2012.
Below are a collection of photos of Srila Puri Maharaja's Appearance Day Festival, new Temple construction, devotee initiations,village preaching, Nagar Sankirtan, prasadam distribution and a few others that we hope you will find inspiring. Hare Krishna!
Also, mark your calendars! Next year marks the 100th anniversary of Srila Puri Maharaja's appearance in this world. An incredible festival is being planned already, along with the simultaneous opening of the beautiful new Berhampore temple and installation of Radha- Govindadev, Goranga Mahaprabhu and Laxmi Nrisingha. This is an event of a lifetime, if you are able please bless us with your sanga! More information to follow. Hare Krsihna!
---
Below are a few photos of devotee initiations at Digapahandi, Srila Puri Maharaja's first temple in Ganjam District. It was here, largely due to the efforts of Srila Bishnu Maharaja that the Krishna Chaitanya Mission grew into the successful international mission it is today. There are also photos of a visit to a Jagannatha Mandir on the banks of the Rishi Kulya River, a nice photo of pilgrims at the holy birthplace of Srila Puri Maharaja that is only a few kilometers from the new Berhampore Temple, photos of village preaching, and a of a vist to the Temple and Samadhi Mandir of Nitya Lila Pravista Om Vishnupad Vaikhanasa Maharaja, a prominent disciple of Srila Bhaktisiddhanta Saraswati Thakur.

New Temple Construction in Brahmapur, India!

_
For the pleasure and encouragement of the devotees I have attached some recent photos of the beautiful temple that Srila Bishnu Maharaja is building here in Brahmapur. As you can see from the photos the temple is in the construction phase but you can get an idea of how attractive it will be when it is completed. The temple is also just a few meters from NH5, a major National Highway. Thousands of people pass by there on a daily basis and many of them will be stopping for darshan, prasad and sadhu-sanga in a few short months. There is sufficient land for gardens, a restaurant, and parking as well. If you are planning to be in India from the 10 to the 14th of January, 2012, please consider attending Srila Puri Maharaja's appearance day festival and give us the blessing of your association.

Para el placer y el estímulo de los devotos he conectado algunas fotos recientes del hermoso templo que Srila Bishnu Maharaja está construyendo aquí en Brahmapur. Como puede ver en las fotos el templo se encuentra en la fase de construcción pero puede hacerse una idea de cómo atractivo será cuando se haya terminado. El templo es también justo a pocos metros del CH5, una principal carretera nacional. Miles de personas pasan por allí a diario y muchos de ellos deteniendo darshan, prasad y sadhu-sanga en unos pocos meses. Hay suficiente tierra para jardines, restaurante y estacionamiento, así. Si va a ser en India desde el 10 hasta el 14 de enero de 2012, por favor considere la posibilidad de asistir a festival de día de aparición de Srila Puri Maharaja y darnos la bendición de su asociación.

Per il piacere e l'incoraggiamento di devoti ho allegato alcune foto recente del bellissimo tempio che Srila Maharaja Bishnu sta costruendo qui in Brahmapur. Come si può vedere dalle foto il tempio è in fase di costruzione, ma è possibile ottenere un'idea di come attraente sarà quando è completato. Il tempio è anche solo a pochi metri dalla NH5, un importante National Highway. Migliaia di persone passa da lì su una base quotidiana e molti di loro arresto per darshan, prasad e sadhu-sanga in pochi mesi. Non c'è terra sufficiente per giardini, un ristorante e parcheggio pure. Se avete intenzione di essere in India dal 10 al 14 gennaio 2012, si prega di considerare presenti Srila Maharaja Puri di aspetto giorno festival e darci la benedizione della vostra associazione.