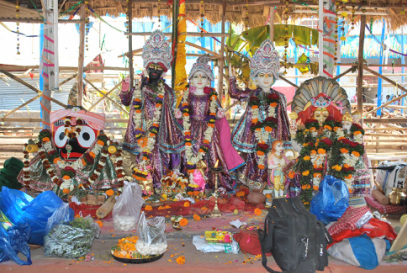 Deity Installation
In the photos below, the intricate, traditional Vedic deity installation ceremony that began on January 21st with a procession of 1000 ladies bearing kalash and coconuts is shown below. A team of 25 pandits and acharyas, each fulfilling a specific duty in the intricate yajna as hota, advaryu, brahma, and udgata took their places at the four havan kunds inside the yajna shala. After the completion of the yajna the abhisek was performed and the deities were moved to the temple altar accompanied by tumultuous Hari kirtan.

---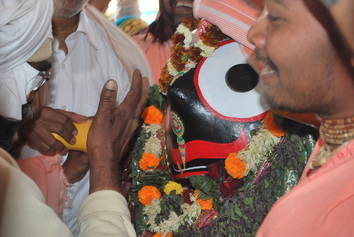 Radha-Govinda, Mahaprabhu, Patita Pavana Jagannatha, and Prahlad Laxmi-Nrusingha take Their place on the altar.
Amidst a thunderous, joyful kirtan in a temple room packed with devotees the deities were placed on the new altar. Along with the altar deities, bas relief marble deities of the ten major incarnations of the Lord, "Das Avatar", were also placed in the shrines that encircle the main altar.

---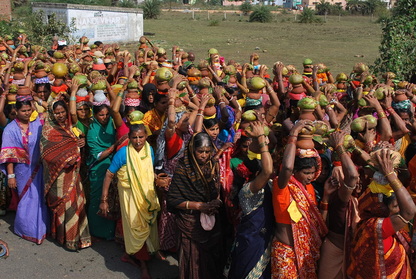 Jal Yatra Kalash Procession
Nearly a thousand ladies fasted all morning and walked more than 12 kilometers from a local river source to the temple bringing sanctified water and coconuts for the auspicious Vedic installation ceremony and abhisek of Sri Sri Radha-Govinda, Patita Pavana Jagannatha Swami, Sri Chaitanya Mahaprabhu, and Sri Prahlad Laxmi Nrusingha. It was a sight to be seen with the procession stretching nearly a kilometer in length. The entire installation procedure was overseen by Srila Bhakti Vichar Bishnu Maharaja and a team of 25 learned brahmin pandits.

---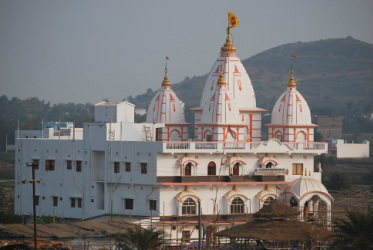 Brahmapur's New Temple
Here are a few photos of the beautiful detail, inside and out, of the new Radha-Govinda Temple. Seeing this temple through the lens of a camera hardly does justice to it's beauty, but we hope these few photos give you some idea of the beauty and craftsmanship of this new Radha-Krishna Temple that now graces the skyline of Brahmapur..



---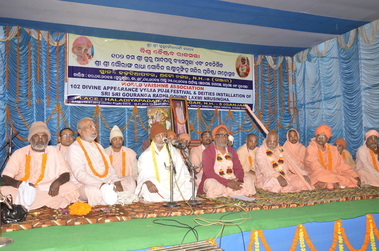 Hari Katha Program
Devotees and guests were blessed to hear the profound spiritual realizations and understanding of the many saints and sadhus that graced the stage throughout the festival. Every afternoon and evening all the sannyasis shared the stage providing a wealth of transcendental knowledge to an eager crowd of devotees that assembled to hear from them.

---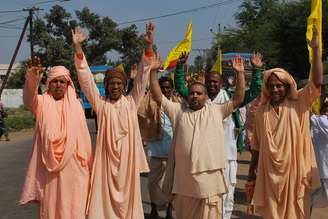 Sadhu Seva
The local Brahmapur devotees were honored with the presence of many sadhus, mahants, babajis, and sannyasis from Puri, Mayapur and local ashrams. Thirty sannyasis from various Gaudiya missions also graced the auspicious occasion with their presence and Hari Katha. It was our great fortune to serve them in whatever small way we were able.

---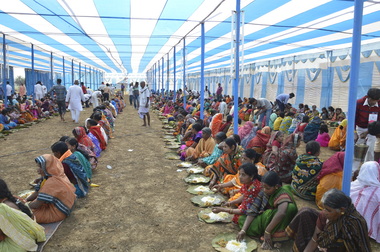 Prasad Seva
Although there is no exact count of how many devotees and guests participated in the festival, we can get a good estimate by how much prasadam was distributed. Over the four main days of the festival an average of 30 quintals (about 7000 pounds) of rice and an equivalent amount of dahl and subji was distributed each day. A quintal feeds approximately 1000 persons so we estimate that 30,000 devotees were served prasadam each day for the four main festival days.

---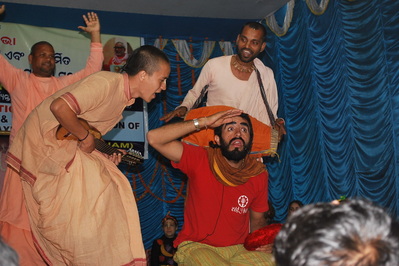 Stage Entertainment
Kirtan performances by Sridham das brahmachari enthused festival goers, bringing everyone to their feet, dancing and chanting in Hari kirtan.
The festival was also graced with entertaining and enlightening stage presentations made by the talented disciples of Pujapad Bhakti Alok Pramadwaiti Maharaja. They performed two plays. The first, a heartwarming skit meant to demonstrate that everyone can find satisfaction of the heart only in the association of the Lord's devotees. The second was an emotional presentation meant to show how consumerism, corporate greed, toxic waste, and irreverent treatment of India's great spiritual assets negatively effect us all. This thought provoking play brought these truths to light in a wonderful way and was greatly appreciated by the audience. Everyone was also pleased to see a traditional Odissi style dance performance of, Das Avatar.
---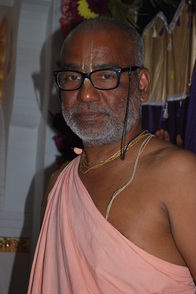 Initiations
Making a commitment to receive the shelter and guidance from a bonafide spiritual master is a requirement to make progress in spiritual life. This is Lord Krishna's prescription for knowing Him, tad viddhi pranipatena, pariprashnena sevaya, (Bg 4.34). Many devotees took advantage of Srila Bhakti Vichar Bishnu Maharaja's presence on the auspicious Temple opening day. About 45 devotees received Hari Nam initiation and 20 received dikshya, Gayatri mantra.

---